The Family
JAMES MORRIS, the fourth member of Thomas & Sarah Morris' family of nine was only aged 24 when he sailed into the River Derwent with his wife Elizabeth and son Tom in the 256 ton "Fortitude" on October 19th, 1853: four months after setting out from Gravesend, England. Gazing at the Derwent and Hobart Town for the first time he said "It baffles description with immense hills covered in forest and white buildings of the town backed by the magnificent mountain".
The poverty of working class England and a dread of the workhouse had forced him to make the biggest decision of his life and leave the family home in Loughton, Essex; to try his luck in the new colony of Van Diemens's Land.
Jobs were then easy to come by in Hobart Town, and within 24 hours he had been hired by a ship's chandler; George Pryde; for the grand wage of 35/- ($7.00) per week, plus board where "they have meat with every meal" — a luxury for poor people in England.
Impressed with the prospects in Van Diemen's Land, James urged his parents to leave England, promising his father a 50/- a week storemans job, his two brothers 35/- a week clerks' jobs, while his two sisters "I guarantee would be married within two months", he said.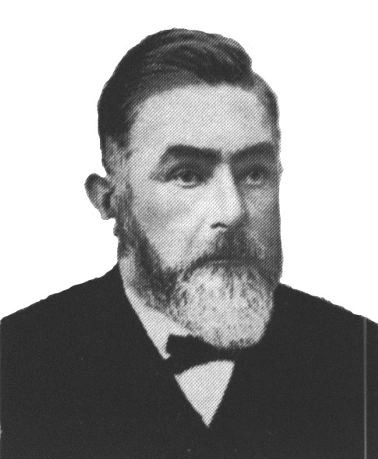 James started work in May 1854 at 100 pounds per year plus board, as a clerk with Robert Mather and sons, Drapers.
Still prompting his family to try a new life, at the end of 1854 he forwarded home to them free passage tickets for his parents to sail out, and his employer, Joseph Mather, offered to advance the passage of his two brothers, Tom & William. His advice for the voyage was: "If you are made captain of your mess carry out your duties impartially." "Make few friends." Keep out of the sailors way or you may be consigned to a warm place."
His father and brother William finally arrived on the steamer "City of Hobart" in May 1855. William became a "clerk" with the Hobart business L. Susman & Co. and was the 'electrician' who supervised the their first demonstration of electric lighting in Tasmania.
Then in 1856; the year Van Diemen's Land became Tasmania; James went to Falmouth forming a partnership with William Lade; acting as a ship's agent and storekeeper for Mr. Mather who at that time was operating the East Coast Steam Navigation Company carrying goods and produce to and from the Coast.
This venture turned out to be unprofitable and on May 6th, 1859 he wrote a letter to J.A. Graham, the Swansea Storekeeper, applying for a position, which he obtained and so moved to Swansea.
For nine years, James and his family lived with Graham and he gathered a sound background in storekeeping but was still living on the breadline with a substantial debt in the business ledger. So in January 1867, he decided he was due for a pay rise and wrote James Graham a letter.
Dear Sir,I have been living with you nearly eight years and think I am justified in asking for an increase in Salary............... I ask for an increase of 25 pounds per year and make this request in writing so that the matter can be more calmly considered. ...............
After a worrying delay of many days during which Graham did not even mention the subject, a reply came back written on the same paper as the request.
....... I have watched your account narrowly and cannot in any one instance charge you with extravagance.On the contrary, you seem to have observed the strictest economy.In consequence your salary will increase by 45 pounds per year and I make you a gift of the balance in the ledger..........
The ledger balance gifted of 27 pounds, twelve shillings and sixpence together with the salary increase obviously did not change James Morris' lifestyle as within 14 months he had been able to accumulate at least a small amount of capital.
In March 1868 this advertisement appeared in the Hobart Mercury.
BURN & CO.
Have been favoured with instructions from the trustees of the Estate of Mr. J. A. Graham to sell by auction, at their mart in Elizabeth Street, on TUESDAY the 10th. day of March at 12 o'clock punctually. THAT EXTENSIVE, CONVENIENT AND WELL-BUILT THREE-STOREY STORE in Franklin Street, Swansea having a length of 74 feet, with 6 rooms for residence of family detached kitchen, store and slaughter house, with about half an acre of land.On the day of the sale, James was in the mart and when the auctioneer said: "Sold to Mr. James Morris". it was the start of a Morris inheritance which has lasted five generations.
James continued to operate the business on similar principles to those established by the previous owner. Although transport was improving, access by road to the district remained difficult. The main road at that time linked Swansea to Campbell Town; thus a journey of 4 days to reach to capital was normal. The shorter route down the coast being very rough and requiring the fording of several rivers. All merchandise continued to be transported by sea
James continued actively in the business until his death on December 6th, 1899 at the age of 70. During his 31 years as a storekeeper at Swansea he had played a major role in the Church, was a founder of the Swansea Social Club and a Justice of the Peace. He was described as: "Besides being a successful merchant he was in all local matters, ever prominent, but kept a respectable distance from the arena of politics.
This copy of an actual Circular Issued by James Morris.
SWANSEA 25th. March 1881

The undersigned in respectfully thanking his many friends for the large measure of support accorded to him during the last 12 years, takes this opportunity of intimating that on the arrival of the "Lily" and "Falcon", he will open out a Large and Varied Assortment of all Goods usually find in a First-Class Country Store. Comprising in these shipments (which have been personally selected), will be found the following goods:

GROCERY, OILMENS STORES, DRAPERYMEN'S AND BOYS CLOTHING, ENGLISH AND COLONIAL BOOTS AND SHOESSADDLERY, HARDWARE, IRONMONGERY, STATIONARY, GLASSWARE AND CHINA, FANCY GOODS ETC

Awaiting your favours, I remain

Yours faithfully,

JAMES MORRIS
James was succeeded by Albert Morris who like his father, quickly assumed the responsibilities to the community. In 1924 , like the founder of the store, he was elected warden of the Municipality and held office until 1926. For many years he was a member of the Water Trust, finance committee, president of the Tourist & Progress Association , a Justice of the Peace, prominent member of the Golf Club and a secret composer of poetry. He was re-elected to Council in 1928 but was forced to resign owning to ill health and died in Melbourne General Hospital in 1929.
By 1910, the Swansea Store was becoming widely known as the best stocked in Tasmania, a boast which Albert Morris often repeated.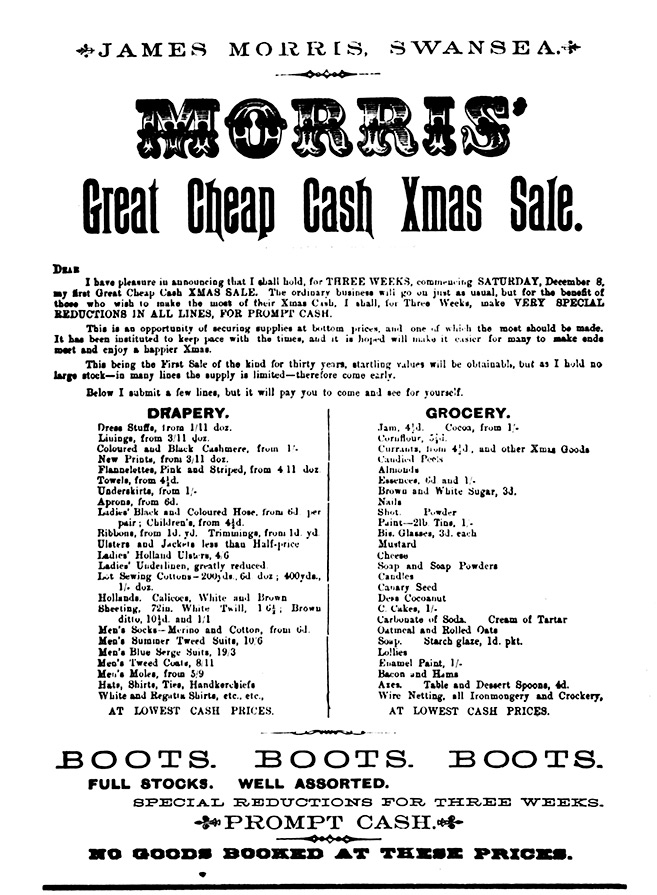 One story, authentic and often repeated is of a visitor, attempting to catch him out, asked for a set of Ice Skates to be produced. Together they climbed to the top floor and after a few minutes search, the skates were found and the visitor had lost his bet.
Also at about that time, the business expanded to service the towns of Little Swanport, Bicheno and Coles Bay which hosted a substantial population of miners & trappers. Of course all the deliveries to these areas were by Horse & Cart . Because no road existed, the delivery to Coles Bay was by driving horse & buggy along Nine Mile Beach; then if the tide was favourable, the horses were driven through the Swan River in the shallow breakers. If the tide was not suitable, then goods were ferried over in small boats.
These deliveries became the task of the younger members of the family, who like all younger generations developed a liking for speed. Father was rather strict in this regard and insisted on checking the horses on their return. To prevent the deception of cooling the horses in the surf on the way home and other misbehaving, he used a telescope from the top floor of the building and was thus always ready to take appropriate action on their return.
These deliveries continued for many years, 'upgrading' to motorised transport as this became fashionable. We don't remember all the vehicles used but names such as Ford, Dodge, Fargo, GMC and even Holden (when a Holden was a Holden) were prominent. Progressively the development of Bicheno as a separate town with its own services, a declining rural work force and increased mobility by rural residents resulted in the 'country deliver run' fading from a two-day/240 homes visiting schedule. This was discontinued in 1998 when the regular deliveries had reduced to two. Free weekly home deliveries to Swansea residents continue today.
From 1929, the store was operated by his wife Agnes Morris in conjunction with their son, Ken, until her death in 1950.
Agnes was actively involved in community affairs including Red Cross and in response to an appeal for waste paper during the war years, cleaned out and donated almost all the records of the business which had been stored since its inception. This patriotic action means that only a few pages are remain of the many fascinating reminders of the past. Of those that remain, some have been loaned to the local museums at Swansea Bark Mill and Community Centre, a few are on display in our visitors room and others stored at the State Archives.
Of the children of Albert & Agnes Morris, Ken (the elder son) rapidly became involved in the family business. Younger brother, Brian also joined in for a short time but following an Army career during the war moved into the banking industry ultimately settling in N.S.W. Daughter Mary, after looking after her mother for many years, married a local property owner.
Ken had many interests outside the store, Secretary & Treasurer of the Golf Club for many years and later a life member, Secretary of the Tourist & Progress Association, the local Lodge, a Councilor and Municipal Treasurer for some years and President of the Football Club. Any spare time from these activities was spent fishing, primarily for Bream in the Swan River.
During the war years with so many other men away, Ken found extra energy, almost single handed managing the business and delivery heavy loads of fuel and supplies to local farmers. After hours he was involved with the V.D.C. , becoming an NCO and spending many hours at roadside check points waiting for the invasion which fortunately did not eventuate. All these activities had a detrimental effect upon his health and ultimately severely restricted his mobility in later years. Despite these health problems, Ken continued to be involved in the business and community projects until his death in 1974.
The store continued to be operated by the next two generations (Jim and Paul) until their retirement in 2022. The business and property were subsequently sold and the Morris Family no longer have any involvement.